Posted in Featured, Pursuing God, The GREAT Adventure—Journeying with Jesus!
God, Hiking Boots, and a Backpack
7 Life Lessons Learned on the Trail
This summer I experienced an adventure of a lifetime. 
Well, it was for me, anyway. I'm no longer a spring chicken, and it was mostly the confidence of a good friend that made me say, "Yes…" —with great trepidation—when she invited me to venture into the Tetons and Yellowstone with her and four other backwoodsy gals. Immediately the doubts flooded in.
You see, this was the first time I had been backpacking in over 20 years.
When my spiritual director reminded me that stepping up to a physical challenge is mostly a mental exercise I decided to look at this as a spiritual quest, a journey I would do with Jesus.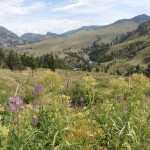 As we trekked up steep rocky paths, along roaring rivers, and across vast green meadows, I kept asking God: "What do You want me to learn from this? What do You want me to see?"
At the time there was no great epiphany, but I found myself looking for Him—and finding Him—in the rugged beauty around me. In retrospect, He taught me a lot as I put one boot in front of the other, mile after sometimes weary mile.
Here are seven lessons I learned along the path.
1. Carry only what is essential — When you are literally carrying everything you need, it's amazing what you can do without. In spite of our rigid downsizing, I still had a nearly-40-pound pack on my back. When the path got steep, it felt like 80. It made me think: what in my life, in my home, is weighing me down?  What can I eliminate to simplify my lifestyle?
2. Hike at your own pace — Several times I made the mistake of setting out at the same pace others were hiking. If there was a hill involved—my nemesis—I soon stalled out, gasping for breath. If instead I hiked at my own steady pace, I discovered I could go on rather indefinitely. What a reminder that on our journey with God we aren't to compare ourselves to others and their journeys. We each have a unique path and pace with Him.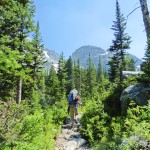 3. Don't try to impress others — Many times I caught myself wanting to impress the other gals—to prove myself to women who are younger and stronger than I am. But as I looked at the jagged rocks and tangly roots jutting along the path I was reminded that with one misstep, one turn of the ankle, the trip could be over. I prayed David's words: "You provide a broad path for my feet, so that my ankles do not give way"— 2 Samuel 22:37. What's to brag about? It is only by His grace we're able to do what we do.
4. The unexpected WILL happen — One morning we awoke to find that marmots had chewed the grips off four sets of our hiking poles! This was a relatively minor thing, but a great reminder that our minds can't begin to fathom the surprises life, and God, has in store for us!
5. Admit your weaknesses — Ego. Pride. Call it what you will, but I was sick and felt lousy—and I didn't want to admit it to anyone. I was afraid of slowing down my friends and having them resent it. Instead they rallied around me. They reminded me we all had weaknesses and burdens—bad knees, delicate tummies, sadness over a lost one, fear of grizzlies 😮 and more. As I admitted my weakness, others shared theirs.
Which brings me to the next point…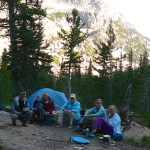 6. Hiking with others makes the trip richer — This trip was as much about the fellowship as it was about the hiking experience. The six of us were a tiny community—tightly knit, for better and for worse. We ate, laughed, cried, prayed, struggled, and celebrated—together! And we were all the richer for it. There's a reason God wants His people to "do community"!
And lastly…
7. Lift your eyes — Especially on difficult sections of trail it was easy to lock my eyes on the path, seeing only the dirt in front of me. But when I lifted my gaze, I was awed by mist-shrouded lakes, vibrant flowers blanketing hillsides, jagged snow-covered peaks, antelope hiding in tall grass, rushing water, and brilliant sunsets. If I had missed all that beauty, what would have been the point of the trip? How often do we "run so fast" in our workaday lives that we forget to look for the blessings and the beauty all around us?

Oh. There is one more thing I learned on the trail…
Chocolate tastes better in the mountains! — Yes, it does! And I can't think of one spiritual parallel for that!
Can you?
 Life is an amazing adventure—especially with Him!