Meet Dee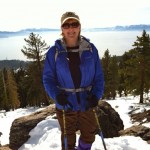 I believe in embracing life!
I'm better at it some times than others, but I'm most successful when I'm clinging to Jesus. With Him, every day is an experience! Life to the max. Life at its most fulfilling.
I'm somewhat of an adventurer—I love traveling and being outdoors. Hiking in the mountains is a favorite past time, especially in the Lake Tahoe area. I've had opportunities to go white-water rafting in the Grand Canyon (twice, in fact), to tromp on a glacier in Alaska, to experience an outback adventure in Australia, and to canoe in the "footsteps" of Lewis and Clark. I love kayaking on mountain lakes and soaking up the beauty of God's creation.  One of these days I'm going to dust off my mountain bike and get serious about meandering the trails at Folsom Lake, near my home here in Northern California. My most recent "big" adventure was the fulfillment of a life-long dream—a three-week photo safari in Africa! Wow. It was amazing. And best of all I was able to go with several of my closest friends.
Life is not without bumps, and yes, I've had my share! I have survived devastating emotional abuse, the sudden death of my little brother when he was just 21, a very difficult divorce after ten years of marriage, a deep, dark depression, and more recently, cancer.
Still, I embrace life with joy! I believe that what God allows is all part of the process of refining me. These life challenges enable me to be more empathetic and vulnerable with others. In fact, I share the very intimate story of my mistakes and wrong turns, as well as God's redeeming love and healing, in my book, The Divine Romance—Going to God with the Longings Only He Can Fulfill (Revell, a division of Baker Books, 2008).
Five of the high points in my life right now are my adorable grandkids—three boys and two little girls. They have an incredible mom (my daughter) and an awesome dad—the most wonderful son-in-law a mom could have. They live in the San Diego area, so I'm prone to drop everything at the drop of a hat when I get invited to speak down there—or for almost any other reason.
Life with Him is good. Join me in Experiencing the Adventure!