Posted in Adventures of Being a Grandma, Featured
Making Grandkid Birthdays Memorable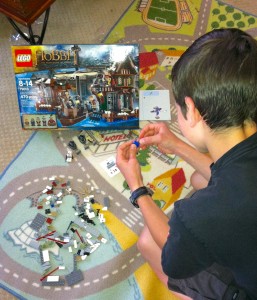 As a long-distance grandmother who misses out on way too many things, I want my time with grandkids to be memorable.
Especially birthday celebrations.
Thanks to this idea from my sweet friend Cindy, "Mama Dee Birthdays" are now a highly anticipated event. And they're so simple.
Here's what we do.
1. We go to lunch together—just the two of us. If I'm not there for the actual birthday, we'll do it the visit before or after. The birthday boy (or girl) gets to choose his favorite place to go. I confess, after my first birthday lunch at McDonald's I added the caveat, "Anywhere but…" Yep. Grandmas get to set limitations!
My grandson orders what he wants and we settle into the meal. We chat and I have an opportunity to find out all kinds of things about him—his favorite school subject, what he enjoys most about his sport, and details about his current favorite movie or game. We linger as long as we want. No rush. At some point I usually find myself talking about life with Jesus and my hope that he will be a "man after God's own heart."
2. Next, we go shopping for a birthday present. Instead of simply unwrapping a gift from me—among the pile of other gifts—we get to explore the store shelves to find a very special something together. This often requires great patience, and as they get older, several different store visits—but this is all about spending quality time together and creating sweet memories.
3. Lastly, we go out for a small birthday dessert. Many restaurants and fast food places have kid-sized hot fudge sundaes. When they're little, we share. My grandkids love Menchie's, a frozen yogurt shop where you pick your own flavors and add your choice of toppings. Jamba Juice is a favorite as well. Whatever they want is where we go.
Pictures. I ask our server to take a picture of the two of us at lunch. I take more during dessert and take several of my grandson with his gifts when we get back home. I want memories for me, too!
I start doing Mama Dee Birthdays when my grandkids turn five. We talk about it a bit in advance so they'll begin to understand how special it is and get excited about it.
If there's a birthday party while I'm visiting, I'll contribute an additional small gift and card for the celebration.
Oh, one important suggestion. When you shop, have a set budget in mind. When they're little you can explain they can have "one big present," or "a medium and small present." They won't be into price tags so you can simply let them make choices that don't exceed your budget. When they're older, I give them a dollar amount. I stick to that, but sometimes fudge to cover tax.
I did my very first Mama Dee Birthday when my oldest grandson turned six—right after Cindy shared her idea with me. The two of us sat in a small booth at a Red Robbin restaurant, him on one side and me on the other. When I noticed an odd expression on his face, I asked what he was thinking.
He gave me a lopsided smile. "This is the first time I ever sat on one side of the table by myself."
I offered him a spot with me, but he declined. He evidently felt special. Grown up enough to sit by himself, without a parent or sibling sharing space.
Today, we celebrated his twelfth birthday. He was still excited to go. We still find lots to talk about. We still have fun together.
My prayer is that when he turns 18 and I ask him if he's getting too old for Mama Dee Birthdays, he'll give me the same answer my friend Cindy got from her 18-year-old grandson:
"Grandma, I'll never be too old for Grandma Birthdays!"