Posted in Featured, Finding Fulfillment, Pursuing God, The Divine Romance, The GREAT Adventure—Journeying with Jesus!
Valentine's Day — A Love Letter from Jesus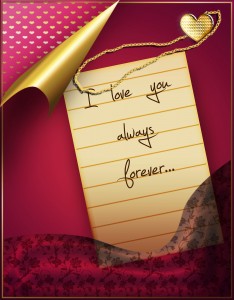 FOR MY BELOVED
I, the Creator of the universe,
love you!
I am your Beloved, and you are Mine.
 I call to you:
"Arise my darling, my beautiful one, and come with Me!"

I made you and I marvel at your beauty.
You were designed to please Me—
and you are pleasing! 
Be in awe of
My love for you,
My pleasure with you,
My desire for you.
I am here.
Run into My arms,
abandon yourself fully to my warm embrace!
You are safe here.
Safe and loved beyond measure.
You are home here. You can stay forever.
Wrapped up in Me.
Love,
Jesus
Quote from Songs of Solomon 2:13b